The price per pound is at $4.42 ($9,734 per metric ton), and
Bloomberg is reporting
that strategist Michael Jansen told a conference two things:
One, demand outstrips supply. The International Copper Study Group expects the 2011 shortfall to be about 435,000 metric tons, while JP Morgan thinks the copper deficit to be between 500,000 and 600,000 tons—either way, copper is going up, up and
away!
Two, Jansen expects copper's floor to be above the $4-per-pound level ($9,000 per metric ton) throughout the new year. With that kind of shortfall in production, this is a reasonable inference.
(FYI: Total world consumption in 2010 was 14.7 million metric tons.)
Copper's been on an upswing for a while—so it's also been affecting monetary issues. The strength of the Chilean peso? Up 30% in two years against the U.S. dollar—three guesses as to why, but you'll only need one, especially when you realize that the world's number one exported gets over 30% of its hard currency from The Big C.
Now due to the shortfall, inventories not only
will
get squeezed, but
are getting
squeezed—check out this graph (though notice where the
y
-axis starts):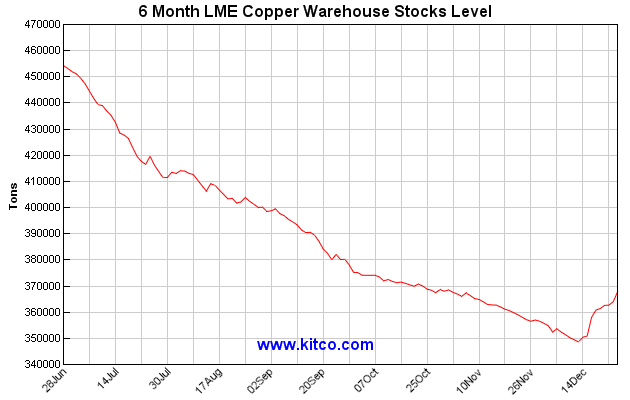 Warehouse levels are where to keep an eye on copper into the new year. If they resume their steady decline . . . well, we know hwo that story goes.
Will these rising copper prices have an inflationary impact? Does Superman wear tight pants?